New Label Oil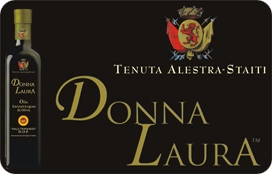 "Donna Laura" D.O.P.
With the oil campaign in 2011-2012, the estate Tenuta AlestraStaiti introduces its range of extra virgin olive oils with a new label.
"Donna Laura D.O.P." is a HQ extra virgin olive oil with Protected Denomination of Origin "Valli Trapanesi" of Sicily. The extraction of oil and packaging must take place within defined territorial area, and the olives must be pressed within two days after collection.